What is a torn or detached retina?
Almost all retinal detachments start from a small retinal tear. In either instance, the retina will not function if it separates from its blood supply.. Retinal detachments can occur suddenly for various reasons, including aging, eye surgery, and eye injury. Symptoms include:
"Floaters" in the eye.
Flashing lights.
A shadow on the side of the eye that may progress towards the center of vision.
Retinal detachments require an evaluation and immediate treatment to minimize severe vision loss.
Retinal Detachment
Retinal Tear
Schedule a Consultation
Want to learn more about Retinal Tears / Retinal Detachments? Click the button below to request an appointment today.
Request an Appointment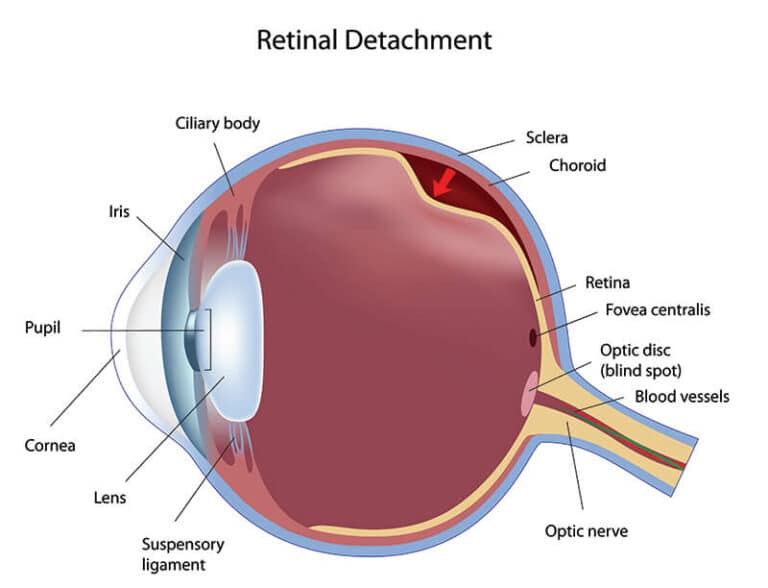 What are the symptoms of retinal detachments?
Sudden flashing lights
Multiple "floaters" in the eye
Shadow on the side of the eye that may progress towards the center of vision.
Gray curtain covering part of the field of vision
What are the risk factors for retinal detachment?
Extreme nearsightedness
Eye injury or trauma
Previous eye surgery
Family history
Advanced diabetes
Aging
Eye disease or disorders like retinoschisis, uveitis, degenerative myopia, or lattice degeneration
How are Retinal Detachments Treated?
Most retinal detachments can be treated successfully by a variety of methods. Some retinal detachments can be successfully treated with laser retinopexy, specifically if localized. However, if laser treatment is not successful or is not an option, Desert Retina Consultants can perform surgery to repair the retina and prevent serious visual consequences.
In-office Retina Treatments:
Laser surgery:
A laser treatment that helps "weld" the retina back in place by making tiny burns around the retinal tear.

Cryopexy:
A freezing treatment that helps reattach the retina by freezing the area around the retinal tear.

Pneumatic Retinopexy:
A gas bubble is placed inside the eye to hold the retina in place.
Surgical Treatments
Vitrectomy:
A surgical treatment that involves replacing the gel-like substance in the eye with gas, which creates pressure that holds the retina in place.

Scleral buckle:
The surgical placement of a scleral buckle (a tiny rubber or plastic band) gently holds the eyeball and the detached retina together.
FAQ: Retinal Detachments and Retinal Tears
Retinal Tear / Retinal Detachment Doctors