Raising the Standard of Vision Care
Desert Retina Consultants is committed to advancing the field of ophthalmology by our involvement in clinical trials. Our doctors are focused on studies aimed at finding better treatments for our patients with sight threatening eye diseases. Dr. Clement Chan and his team of coordinators have been actively involved in research studies since 1995 and are proud to increase the overall standard of vision care for patients through new technologies and therapies.
Our research efforts have been behind the FDA approval of several therapies for macular degeneration and diabetic macular edema over the past 15 years. Our team has completed over 50 studies, including studies sponsored by the National Institute of Health, major pharmaceutical companies and several sponsored by Dr. Chan.
Major areas of investigation include, diabetic eye diseases, age-related macular degeneration, retinal vein occlusions and more.
We are a proud member of the Diabetic Retinopathy Clinical Research Network (drcr.net).
We are currently enrolling patients in the following trials:
ShORe: A Phase 3, Multicenter, Double-masked, Randomized Study to Evaluate the Efficacy and Safety of Intravitreal OPT-302 in Combination with Ranibizumab, Compared with Ranibizumab Alone, in Participants with Neovascular Age-related Macular Degeneration (nAMD)
EYP-1901-204: A Phase 2b, Multicenter, Prospective, Double-masked, Parallel Study of EYP-1901, a Tyrosine Kinase Inhibitor (TKI) compared to sham for the Improvement of Moderately Severe to Severe Nonproliferative Diabetic Retinopathy (NPDR)
Rhone-X: A MULTICENTER, OPEN-LABEL EXTENSION STUDY TO EVALUATE THE LONG-TERM SAFETY AND TOLERABILITY OF FARICIMAB IN PATIENTS WITH DIABETIC MACULAR EDEMA
Avonelle-X: A MULTICENTER, OPEN‑LABEL EXTENSION STUDY TO EVALUATE THE LONG‑TERM SAFETY AND TOLERABILITY OF FARICIMAB IN PATIENTS WITH NEOVASCULAR AGE-RELATED MACULAR DEGENERATION
Gather2: A Phase 3 Multicenter, Randomized, Double Masked, Sham-Controlled Clinical Trial to Assess the Safety and Efficacy of Intravitreal Administration of Zimura (Complement C5 Inhibitor) in Patients with Geographic Atrophy Secondary to Age-Related Macular Degeneration
Amgen: A Randomized, Double-masked, Phase 3 Study of ABP 938 Efficacy and Safety Compared to Aflibercept (Eylea®) in Subjects with Neovascular Age-related Macular Degeneration
---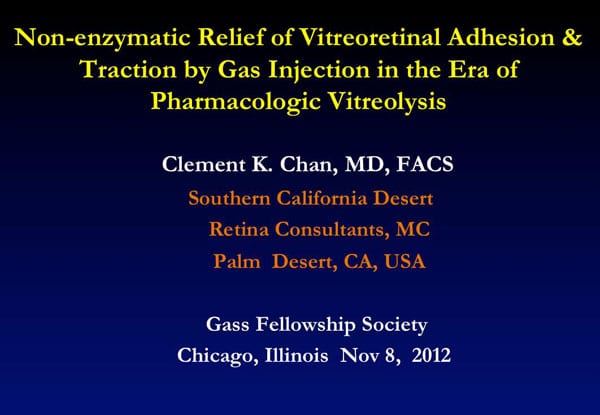 Dr. Chan's Most Recent Published Clinical Study
Earlier therapeutic effects associated with high dose (2.0mg) Ranibizumab for treatment of vascularized pigment epithelial detachments in agerelated macular degeneration
If you are interested in learning more about clinical trials please call the office and ask to speak to a study coordinator, 760-340-2394.